Dr. Wilder E. Spaulding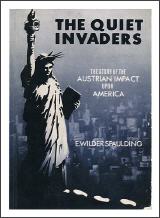 Wilder E. Spaulding

A resident of Washington, D. C., Dr. Spaulding was born in Boston and graduated from Dartmouth College. He received a master's degree and a doctorate in history at Harvard, and he taught history at Kalamazoo College in Michigan and Trinity College in Connecticut before joining the State Department in 1930.
His State Department career included service as chief of the division of research and publication, which was responsible for historical, geographic and political research.
In 1949, he became cultural attache at the U.S. Embassy in Vienna. He was instrumental in negotiating the Fulbright Exchange Program in Austria, and he served as the first chairman of the Fulbright Commission.
On returning to the United States, he wrote The Quiet Invaders, a 1968 book about Austrian contributions in the fields of science, music, architecture and literature of the U.S.

Interview in German 1969: Topic is Wilder Spauldin´s book"The Quiet Invaders"
Ambassador James W. Riddleberger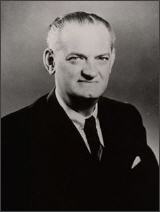 James W. Riddleberger

Chief, Division of Central European Affairs, U.S. Dept. of State, 1944-47; counsellor of embassy, and chief, political section, American Military Government, Berlin, Germany, 1947-50; acting political adviser to commander-in-chief, U.S. Forces, Germany, 1949-50; political adviser to E.C.A., Paris, 1950-52; appointed a career minister, 1950; director, Bureau of German Affairs, U.S. Dept. of State, 1952-53; and subsequent to his service during the Truman Presidency served as an ambassador to various countries and as director of the Internationa1 Cooperation Administration.
Ambassador Robert G. Neumann
Robert G. Neumann

Born in Vienna, Austria, Neumann received degrees from the University of Rennes, the Consular Academy of Austria, the Graduate Institute of International and Development Studies in Geneva, Switzerland (formerly Institut universitaire de hautes études internationales, HEI) and the University of Michigan. During his studies in Geneva, Neumann was arrested by the Nazis and spent two years in a concentration camp. Upon his release, he left for America, where in 1940 he received a Master of Arts from Amherst College.
After a brief stint teaching at the State Teachers' College in Oshkosh, Wisconsin, Neumann enlisted and served during World War II. Upon his return, he took up a job teaching political science at the University of Wisconsin–Madison. In 1946 he earned his Ph.D. from the University of Minnesota.
The following year he took a post at the University of California at Los Angeles, where he eventually became a tenured professor.

In 1966 he was named by President Lyndon B. Johnson as ambassador to Afghanistan. At the time, the position was not necessarily a permanent one, and Neumann was granted a leave of absence from UCLA. However, by 1970, Neumann felt compelled to remain at work at the Embassy, and resigned his professorship at the school.
After serving in Afghanistan, Neumann became the ambassador to Morocco in 1973. Upon his return to Washington, D.C. in 1976, he began teaching again at Georgetown University, while taking the director's helm of the Institute for the Study of Diplomacy.
In 1981, Neumann was once again called into the diplomatic community, this time as Ronald Reagan's ambassador to Saudi Arabia. However, he abruptly resigned that same year due to a personal conflict with then-Secretary of State Alexander Haig. He remained a fellow at Georgetown University until his retirement in the early 1990s.
Neumann died in 1999 in Bethesda, Maryland at the age of 83.


Denise Abbey
Denise Abbey

1945-1947 Programmer, Radio Free Austria, USIS,
Salzburg

1947-1952 Educator, Austro-American Institute of
Education, USIS, Vienna
Dr. Emil G. Spitzer